BRACKETTVILLE, Texas—For months, Texas ranchers have dealt with a relentless stream of illegal aliens traversing their property, cutting fences, breaking into their homes, and threatening them. Their patience is wearing thin.
Rural Kinney County, where Brackettville sits, has become a major thoroughfare for illegal immigrants trying to avoid law enforcement. The county shares just 16 miles of international border with Mexico, but sits between Del Rio and Eagle Pass—two major illegal border-crossing areas in Texas.
The Kinney sheriff's stable of six full-time deputies has been beefed up by constables and deputies from Galveston, but with 1,360 square miles to cover, it's an insurmountable ratio. The Texas Department of Public Safety (DPS) has had an impact, catching smugglers on the roads and illegal aliens on ranches, but still, they're outnumbered.
Meanwhile, Sam Hall, the founder and president of militia group Patriots for America, has spent the past week in Kinney County.
"What we've seen is an invasion of this county," Hall said during a county commissioner's meeting on Oct. 18. "What we've seen is residents that are scared to death right now, and they don't feel like they have support from the state."
Hall told The Epoch Times that he'll have around 40 men in the county by the end of the week and a total of 100 by around Oct. 26, with more coming. The militia's arrival is happening against the backdrop of reports that 60,000 to 85,000 mostly Haitian migrants are on their way toward the U.S. border.
"We need the right men. And as many men are wanting to come down here, we don't need just a warm body—we need very high IQ, situational-awareness kind of men," he said.
He said the militia will operate as a deterrent in areas of high traffic.
"As a militia, we can't detain or arrest people. We can disrupt and frustrate until the county or DPS can get there," Hall said. He said the militia is self-funded, but members are having to take time off work to join. He anticipates that members from Texas, Georgia, and Louisiana will travel to Kinney County.
"We're not here to hurt anybody. We're not here to beat our chests, start a fight—nothing like that. We're here to keep people safe," Hall said.
"We're not leaving as a militia until we know that this county is safe."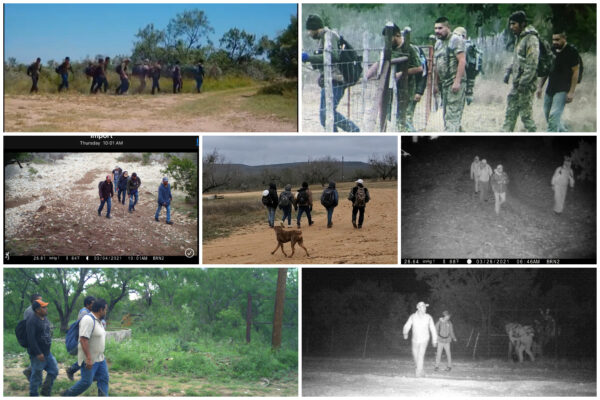 Kinney County Sheriff Brad Coe said the militia is welcome, "but we've just got to keep an eye on who they are, where they're coming from."
He says Hall's militia group seems "very squared away" and hopes they'll stay in communication with him as to where they're operating.
"The best thing for them to do is to be in observation mode," Coe told The Epoch Times.
"If somebody lets them on their private property, that's between them and the landowner, but if they see something, call us, don't engage it. Don't start something that they can't finish or finish wrongly, because then we'll really be open to a lawsuit."
Coe said militias have gotten a bad name over the past several decades, but "because of the militia, the United States exists, and so does the State of Texas."
"There's a place for a militia. But it has to be dealt with very, very delicately, because there's a fine line there between vigilantism and militia," he said.
Hall said he's aware that any mistake his members make will be "exploited by the left."
"And so we can't have anybody down here that's, you know, watched too many 'Rambo' movies growing up and have these illusions of grandeur. We need people that have cool-headed discernment and wisdom, and know that this is a high-stakes situation."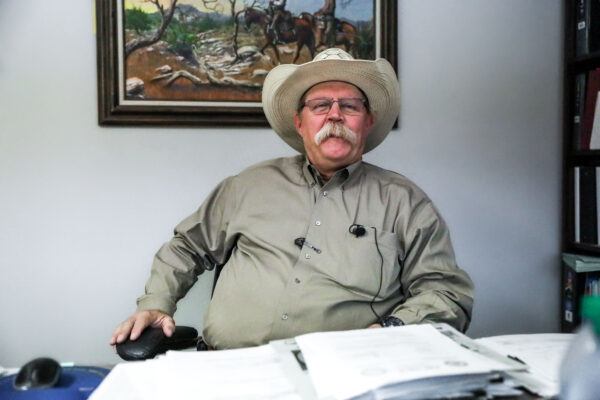 At the county commissioners meeting, Coe's request for an initial 10 reserve deputies, on an unpaid three-month rotation, was approved. Coe said he may pull some militia members into that team, and he's also hoping that some local retired peace officers can help fill the slots.
In its latest local disaster declaration, filed on Oct. 6, Kinney County requested that Texas Gov. Greg Abbott "immediately deploy 2,000 state military personnel to Kinney County to repel an invasion and protect the sovereignty and territorial integrity of Texas."
Coe said he spoke to the governor's office on Oct. 13 and isn't expecting any National Guard troops in the county, although 1,500 personnel are being deployed to the flanking border cities of Eagle Pass and Del Rio.
DPS has arrested more than 1,200 illegal aliens for trespassing on private property in Kinney County in the past several months, and County Attorney Brent Smith said he's received about 800 case files so far.
However, the county remains concerned about access to jail space as it relies on a temporary detention facility in neighboring Val Verde County to take the overflow, while the state is holding inmates in a repurposed facility in Dilley.
---
Reprinted with Permission from - The Epoch Times by - Charlotte Cuthbertson
We hope you've enjoyed this article. While you're here, we have a small favor to ask...
As we prepare for what promises to be a pivotal year for America, we're asking you to consider a gift to help fund our journalism and advocacy.
The need for fact-based reporting that offers real solutions and stops the spread of misinformation has never been greater. Now more than ever, journalism and our first amendment rights are under fire. That's why AMAC is passionately working to increase the number of real news articles we deliver WEEKLY, while continuing to strengthen our presence on Capitol Hill.
AMAC Action, a 501 (C)(4), advocates to protect American values, free speech, the exercise of religion, equality of opportunity, sanctity of life, the rule of law, and love of family.
Thank you for putting your faith in AMAC!
Donate Now
---
If You Enjoy Articles Like This - Subscribe to the AMAC Daily Newsletter
and Download the AMAC News App
Sign Up Today
Download
If You Enjoy Articles Like This - Subscribe to the AMAC Daily Newsletter!
---